The UK's financial watchdog has lifted restrictions on the German payments company Wirecard, allowing it to resume payment activities.
The Financial Conduct Authority (FCA) imposed restrictions on the company's arm in the UK after its collapse last week.
Thousands of people were unable to access their money or make payments through apps as a result.
"Our main objective all along has been to protect consumers' interests and money," said the FCA.
Customers should now, or very soon, be able to use their cards as usual.
Christopher Woolard, FCA's chief interim executive, told the BBC's Today program that the FCA "imposed very stringent conditions" on the Newcastle-based subsidiary of Wirecard in the United Kingdom, which has had indirect effects on some 70 payment companies.
"When we did that, we were fully aware that there are really vulnerable people who depend on these services, for example, to receive benefit payments," he said.
Woolard said the FCA has spent the past few days making sure that money owned by people in the UK is now protected in UK bank accounts under strict conditions.
"What that means is that if you have a card straight from Wirecard or one of those 70 companies that depend on them, those cards should start working today," he said.
On Tuesday morning, Wirecard released a statement saying that some customers may be unable to transact immediately, but the company anticipated that the delay would not last more than 24 hours.
Several British technology companies have been forced to suspend services due to FCA restrictions, leaving thousands of accounts blocked.
Payment cards from the online company Pockit, for example, were blocked because they used a payment processing service owned by Wirecard.
"I'm left with nothing '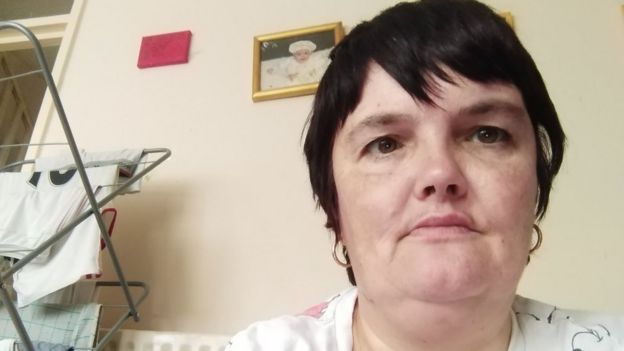 Dawn Guilfoyle is one of thousands who have been prevented from using their debit cards due to the failure of the large German payments company Wirecard.
"It is very bad. I have nothing," she says. "When the gas goes off, I won't have any to cook or hot water."
Guilfoyle's card, from online company Pockit, was frozen because the FCA wanted to ensure that the money was safe.
Read more about her story here.
The FCA said that all customers who are still experiencing difficulties using the card should contact the card provider directly.
The action came after German parent company Wirecard last week released a € 1.9 billion hole in its accounts and subsequently filed for insolvency.
Former boss Markus Braun was arrested and accused of inflating Wirecard's finances to make them look healthier for investors and customers.
On Monday, the FCA said: "There are still certain requirements, which have been imposed on Wirecard's authorization.
"These requirements include restrictions on where he can store the customer's money and restrictions on his ability to transfer his own assets."
"FCA continues to work with the company to make progress in these matters," he added.
Woolard told the Today program: "Obviously, there is a separate story around the Wirecard in Germany, where there is a German bank regulated by our colleagues in Germany".
He said the FCA was closely monitoring Wirecard's UK operation, but was not trying to find a new owner for the UK subsidiary.
The FCA restricted the Wirecard from some operations, such as initiating payments on behalf of customers.
Wirecard said he plans to "continue to work closely with the FCA so that these restrictions are lifted as quickly as possible".