A serial rapist managed to carry out a wave of sexual attacks when he was released from prison after "major failures" by a team of "unstable" and inexperienced staff, according to inspectors.
Joseph McCann received 33 life sentences in December for attacks on 11 women and children.
So far, only one person has been demoted, according to the report.
One of McCann's victims called parole actions "shambolic and chaotic".
The 34-year-old convicted thief was released after a parole error in early 2019.
The independent review led by the parole chief inspector Justin Russell said that this happened despite signs that he posed a risk to the public and could commit sexual crimes.
'Crucial information lost'
McCann saw 10 employees in 11 years, with three probation officers responsible for his case in the months leading up to his release from prison.
Two months after leaving prison, over the course of 15 days last spring, he kidnapped, raped and assaulted victims aged 11 to 71 in Watford, London, Greater Manchester, Lancashire and Cheshire.
He had been seen by parole officers 10 times in those two months, the last time in April, a few days before he committed the first rape.
A jury found McCann guilty of 37 charges related to 11 victims, including eight rapes, false imprisonment and kidnapping.
An internal review published by the Ministry of Justice in March revealed the mistakes made in the case, including repeated failures to get him to prison, despite authorities warning about the risks it poses.
In the first of the two reports in his analysis, Russell said: "McCann was managed by an unstable team, without experienced and qualified professionals.
"They suffered from a lack of management oversight, high workloads, poor performance and high staff turnover.
"There were signs that it posed an increasing risk to the public. There was evidence of its potential for sexual offenses."
Crucial information, recorded on different systems by various authorities, was "lost" in transfers between employees, Russell added.
But "most worryingly," according to the report, prison officials did not share information about the risk posed by McCann on parole, meaning that pre-trial detainees "did not have a clear picture" of who they were dealing with and were making decisions based on inadequate assessments. .
The report found that McCann, in his first arrest, was considered a "high risk of serious harm to family members" after sending letters including threats of sexual violence to relatives. He had also sent a threatening letter containing a sexual reference to the parole manager of criminals, having his case turned over to another worker.
But decisions about McCann's release were "very focused" on whether he would carry out more robberies, the report said, despite warnings as early as 2011 that he had the characteristics of a sex offender and "was not based on analysis of his behavior patterns ".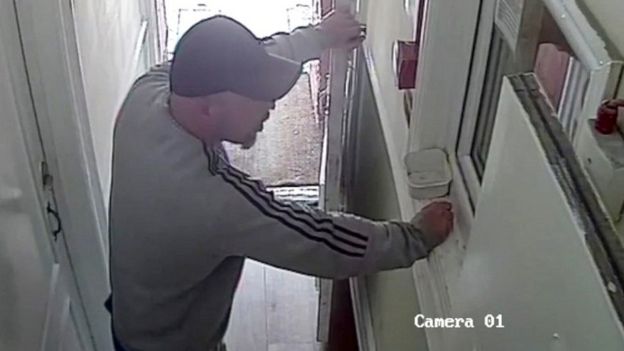 Another "key element" in planning for a high-risk criminal to get out of prison was to ensure that he had adequate accommodation.
He should have been given a bed in a bail shelter, known as approved facilities, where he could be monitored on parole after being released.
But after parole officers "tried and failed" to get him a space, he was allowed to live with his family, where he could not be monitored closely, Russell said.
Among the 13 recommendations made to the Prison and Internship Service and the National Internship Service, Russell asked for more beds in approved facilities.
Alan Collins, one of the lawyers representing McCann's victims, said the report had "an agonizing read" and called for dangerous criminals to be "flagged" throughout the justice system to ensure that these failures never happen again.
One of the victims said in a statement: "The words shambolic and caotic come to mind to describe the practices of the Internship Service.
"It is obvious that McCann should be in prison and not be free to commit the terrible crimes that forever changed the lives of eleven victims and their families."
Former victim commissioner Baroness Newlove described the report as "laughable", saying the system needed to "review and invest".
"For these victims, I feel sorry for them, because the system, the government, the funding, have completely disappointed the public," she said.
A Justice Ministry spokesman said: "These crimes were horrendous and we apologize to the victims for the unacceptable failures in this case.
"We have greatly improved information sharing between prisons and probation officers and all probation staff have received new, mandatory training on when criminals should be called."
The second part of the review is due to be published in the fall.