Some students are starting to return to schools in Wales for the first time since March.
All students are expected to be able to "check in, follow up and prepare" for the next three to four weeks before the September period.
With strict measures of social distance and limited numbers at a time, classrooms will look very different.
One teacher said the teachers were "excited" but had a "degree of anxiety and apprehension" when the students returned.
Schools were opened during the blockade, but only for students classified as vulnerable and for children of key workers.
Parents who choose not to send their children to school will not be fined and students who fall under the protection category will continue to learn at home.
Not all schools will reopen to all students as planned today, with schools in Anglesey remaining closed for now after a coronavirus outbreak at a chicken factory, and five schools in Blaenau Gwent remain closed after problems with water supplies.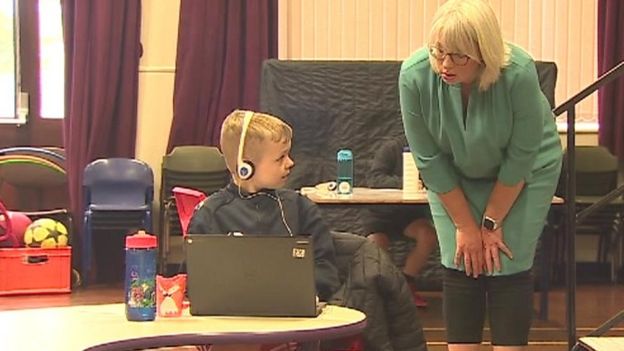 Students will find the classroom environment very different from what is being described as a "new normal" when the new school year begins in September.
Schools of all sizes had to reorganize to reduce the risk of infection.
Ysgol Gynradd Cerrigydrudion, in Conwy, has set up a classroom in the school room, while others will have a maximum of six students in each.
But online classes will also continue, and they are predicting the likelihood that the school experience will be "mixed learning" for a considerable future beyond September.
The village primary school normally has 80 children, but it can now admit a maximum of 26 students at a time, which includes children of key workers.
Schools reopening – but not as you know
Questions and Answers: How will schools in Wales be reopened?
Which places are back for three or four weeks?
"We hope that our plan allows for a connection with every child who wants to go back to school," said Professor Eirlys Edwards.
"And, of course, we respect the wishes of parents who do not want their children to go back to school, but our goal is to keep in touch with them with the live broadcast as well.
"I hope it will be a warm-up, to prepare you for September and to return with confidence."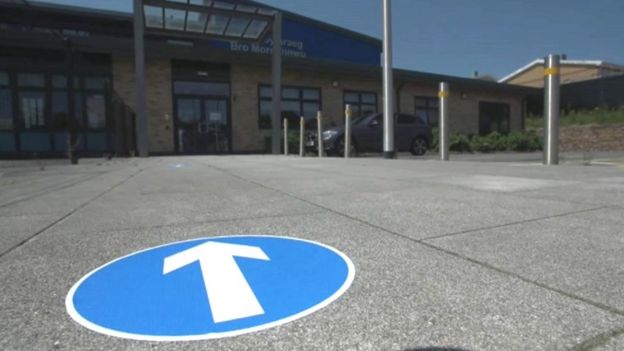 In the Glamorgan Valley, around 80% of students are expected to return in different cycles in the coming weeks.
An application is being used to guide teachers, students and parents on the school day and how to deal with issues related to social distance in the classroom and playground.
'Cozy environment'
Jane O'Leary, of the Vale of Glamorgan council, said: "It is a good way to show students and parents that everything is being considered and that it is safe to go back."
Other schools and councils have produced their own videos.
O'Leary said the coronavirus posed major challenges for the council's 60 schools in classroom transportation, meals, hygiene and logistics, but the pieces were in place to provide a "safe and welcoming environment for staff and students" .
But despite the changes, some parents said they still do not feel comfortable sending their children back to the classroom.
Director Stephen Garthwaite of Ysgol y Grango in Wrexham said that teachers have done everything possible to make classrooms safe.
But he said that about 25% of students would not be back yet, and there was a feeling of "apprehension" amid today's excitement.
"Things are very, very different, it is not the school we leave, so there is a degree of anxiety and apprehension, but we are generally very excited to see students again," he told BBC Radio Wales Breakfast.
What will happen in September?
There are still many questions about what learning might look like in the next academic year and those studying in the field of education will be looking to the Minister of Education for what happens next.
Kirsty Williams said last week that she suspected that mixed learning would likely continue "for some time", although she did not rule out full return to school in September.
"It is difficult to judge, but the thought is that we will not return to normal in September," said O'Leary.
"I think we will be in a blended learning situation when we have some online learning and others face to face.
"But what exactly are these numbers and class sizes will depend a lot on what happens to the laws of social distance in the coming weeks."