Four people were indicted after violence at an illegal street party in South London.
Twenty-seven police officers were injured during clashes at a "unlicensed music event" involving about 400 people in Brixton on Wednesday night.
The crowd on Overton Road was asked to leave and then became hostile, the Met Police said.
The four people were charged with offenses and assaults on public order.
Donte Knight, 20, from Charles Barry Close, Clapham Town, Wise Gambou, 19, from Chalk Road, Plaistow and a 16-year-old Brixton man are due to appear at Croydon Magistrates' Court on Monday, accused of violent disorder. .
Natasha Agyekum, 24, of Peckford Place, Brixton, has been charged with assaulting an emergency services worker and will appear in court on 20 August.
Another four men were arrested on suspicion of violent disorder as part of the police investigation.
One remains in custody, while one aged 18, 22 and 28 have been rescued while investigations continue.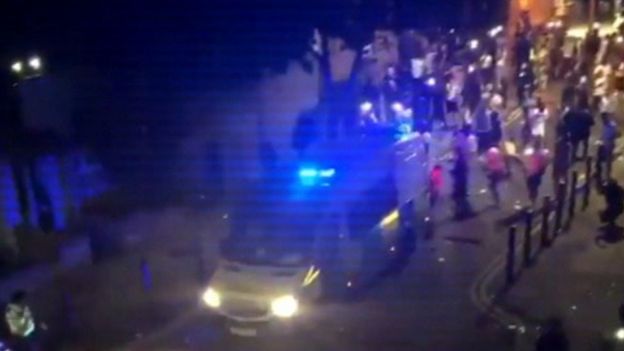 Images shared on social media last week showed police vehicles being crushed and police thrown with bottles and chased during clashes near the Angell Town property.
Two policemen and two people at the party were taken to the hospital.
There have been a number of illegal parties in London in the past few days.
Interior Secretary Priti Patel said the increase in mass meetings was "unacceptable" and risked a second wave from Covid-19.