An extra £ 14 billion is needed each year to help the UK fulfill its climate commitments, suggests a new think tank report.
The Green Alliance says the money is needed for clean transportation, nature restoration and low-carbon buildings.
In the past three years, it says that $ 9 billion has been spent on projects that actually increase CO2, like roads.
This is when big UK companies promise to "start a new approach" and "put the environment first".
The Aliança Verde think tank insists, however, that the issue of financing must be resolved in the Prime Minister's speech on economic recovery expected on Tuesday.
Its calculations are based on the government's own assessment of the main ongoing projects, launched on June 16.
The government said it is determined to meet the carbon targets, but the report draws attention to ministers' plans to spend £ 28 billion on roads.
The authors doubt that the government should spend more money on projects that increase CO2 emissions.
Chris Venables, head of policy for the Green Alliance, said of Tuesday's expected speech: "This is a unique opportunity in a generation for the prime minister to lay the foundations for a healthier and more resilient economy.
"For Project Speed ​​(the Prime Minister's infrastructure review) to be successful, it must be the most ambitious climate infrastructure project of all time, creating jobs in every corner of the UK.
"It cannot mean a bonfire of regulations blocking polluting activities in the coming decades."
The report supports the analysis of the Trades Union Congress, which defines the best cost / benefit ratio for job creation schemes. Road construction was poorly evaluated.
The calculations judge the projects based on jobs created per kilo of public investment.
Best Value Projects
It is said that the best value is: renovating buildings and creating cycle paths, which receive 20 points.
Electric ferries, battery factories and reforestation score 19; decarbonization industry, new British electric buses, 18; and modernization of railways, installation of electric vehicle chargers and environmental restoration, 17.
Broadband expansion marks 15, but road construction, by comparison, marks only 10.
In a previous interview with BBC News, AA President Edmund King endorsed the role of broadband.
He told BBC News: "Arguably in the future, we must invest more in broadband (than in new roads), because what this crisis has shown is that most companies can continue working from home and can be more efficient".
In the meantime, the government is facing legal action from a group complaining that road plans are incompatible with climate objectives.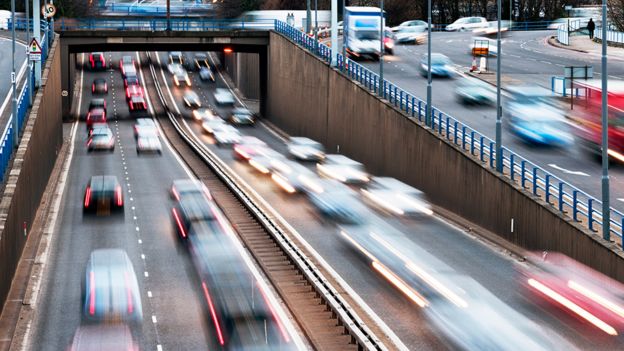 Andrew Adonis, former head of the National Infrastructure Commission, told BBC News: "We need to tackle bottlenecks in the road system, but it is vital to promote a long-term shift to low-carbon transport.
"The coalition agreement for the new Irish government includes a split of 2 to 1 so that all future spending on transport capital is on public transport and cycling, not on roads. We should consider doing the same in the UK."
A government spokesman said: "The prime minister made it clear that the UK should have the most ambitious environmental program in any country in the world.
"The actions we are taking to achieve our zero emissions target will help provide a stronger, cleaner, more sustainable and more resilient economy after this pandemic – and there are already more than 460,000 jobs in the UK at low carbon companies and their supply chains ".
On Monday, more than 200 business leaders will meet with Business Secretary Alok Sharma and Environment Secretary George Eustice at a Council for Sustainable Business event.
The FTSE 100 companies, including Unilever, Standard Chartered and Direct Line, will discuss measures that companies can take to reduce carbon emissions with ministers, while also trying to deal with the consequences of the coronavirus crisis.
Participants will be asked to show the government that they want to work with them in a "cleaner, greener and more resilient economic recovery after Covid-19".