The Pakistani Rupee (PKR) opened the week with mixed results against most major currencies, but kept the exchange rate against the US dollar below Rs. 160
Today (February 8), the PKR gained 42 paisas against the US dollar after gaining 19 paisas on Thursday (last trading day of the previous week), bringing the exchange rate below Rs. 160 for the first time since the beginning of the 2021 calendar year.
PKR closed at Rs. 159.56 against the dollar on the interbank market today, compared to Rs. 159.98 for the US dollar on Thursday (February 4).
On January 4, 2021 – the first trading day of the year – the PKR closed at Rs. 159.97 for the US dollar, which fell against the exchange rate of Rs. 159.83 for the US dollar on December 31, 2020 – the last trading day of the previous year. Since then, it has been steadily gaining and losing against the dollar, but has remained above Rs. 160.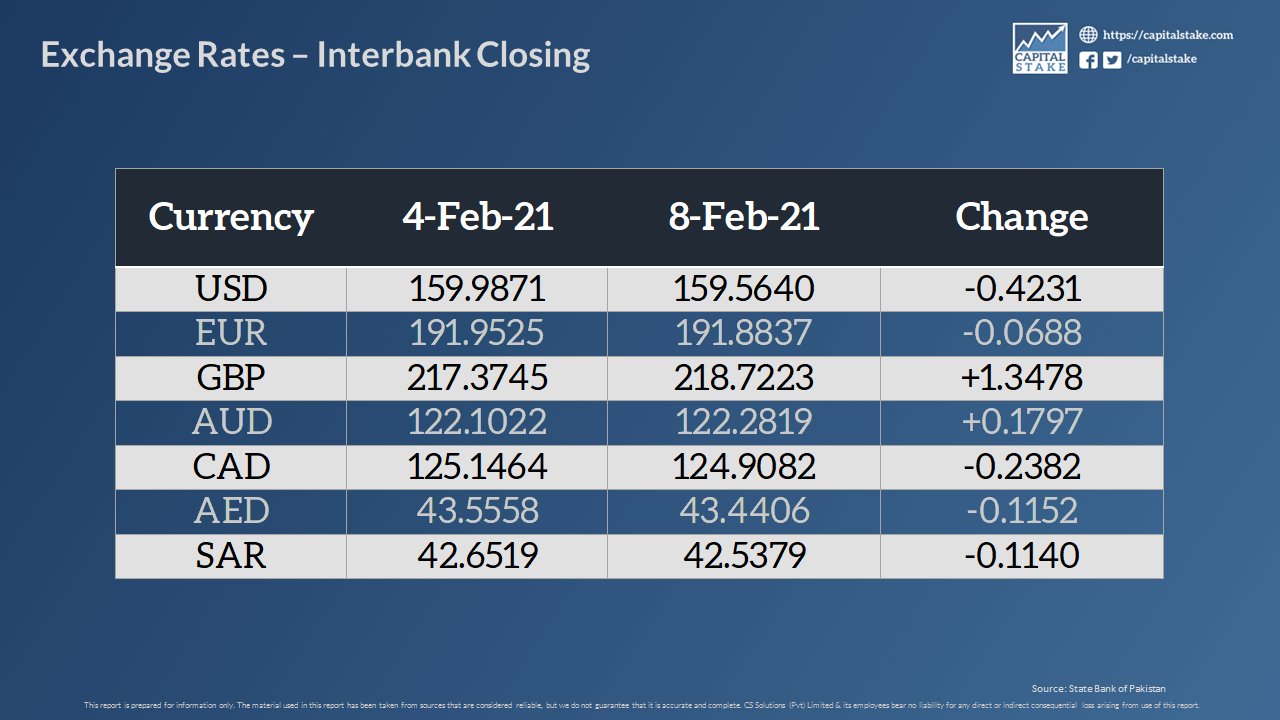 The PKR has continued its winning streak since Thursday against the Euro. Today's gain against the euro was 6 paisas, after the substantial gain of 90 paisas on Thursday.
PKR recorded gains against the pound sterling (GBP) for several days last week. Today, however, the PKR has lost Rs. 1.34 to the pound after earning Rs. 1.56 for the pound sterling on Thursday.
The PKR showed improvement against the Australian dollar, but since Thursday, the trend has been downward. On Thursday, the PKR lost six paisas to AUD, which today total 17 paisas losses.
The PKR rose 23 paisas against the Canadian dollar on the interbank market today, after winning 26 paisas on the previous trading day.
The PKR also recorded losses against the United Arab Emirates Dirham (AED) and the Saudi Arabian Riyal (SAR), with rare improvements. Monday proves to be one of those days of improvement with a gain of 11 paisas against AED and SAR.